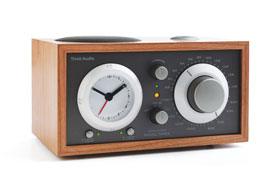 Without a doubt, if  you are interested in maximizing the space in a room, preserving a sense of style and order in your decor while having a sound system that can deliver high fidelity music from radio, your iPod, or the internet, look no further than Tivoli Audio.
Each Tivoli Audio system comes with a simple yet elegant design, while being compatible with add on features like iPod docking stations and extra speakers.
The Model Three Clock Radio
The Clock radio, named Model Three, is a timeless classic that make the cheaper more "plasticy" made-in-China boom box/ docking station competitors look lackluster.
 "The Model Three clock radio features a tuner – originally developed for cellular communications – that brings clarity to even the weakest stations. Owners tell us they love the ultra-smooth analog tuning dial, the sound design that astonishes the audio experts, and the beauty and balance that make it "not just the best looking clock radio made … its one of the most beautifully crafted home audio products ever." (LA Times)
Tivoli Model Three Video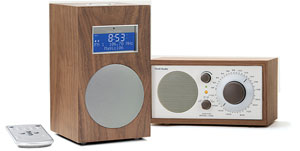 Jack Deligter of Bloomberg Businessweek recommends the Model 10 as the alarm clock of choice for the hardworking professional. "Night-table equipment as its finest. … Its craftsmanship and design evoke qualities every 9-5er should aspire to: strength, confidence, and competence." See the Review.
Tivoli Model CD connects to any Tivoli Radio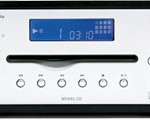 The Tivoli Model CD has a front-loading slot design that makes loading a CD easy.
The front panel has a large, easy to read display paired with universal controls. Model CD also has its own credit card–sized remote control for Shuffle, Repeat, Volume, Intro, and Direct Track Access functions. The Model CD player will play any standard audio CD and CD-R.